Wise Registry Cleaner
8.31
Special Care
A smart Windows user knows that one of the keys of maintaining a fast and functional machine is the registry system. Neglecting a computer's registry is like changing a restaurant's menu without updating the menu booklets. Well, maybe not that catastrophic but it certainly results in a counterproductive computer. Most registry management tools offer to clean it of impurities, so to speak. This program however has a novel idea. It also defragments registry chunks in order to be more easily accessible to the disk reader.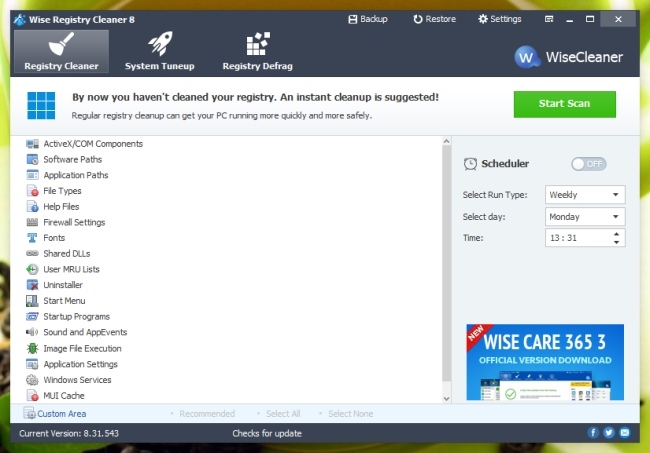 Selective defragmentation
Wise Registry Cleaner deals mainly with the Windows registry but also offers all sorts of optimization solutions. But first things first, the registry health is managed by two tools.
Registry Cleaner works as you would expect. It removes inconsistencies like missing information or obsolete data. The pretty part is that you are treated with a very informative list of operations and you can set up a Custom Area so that only specific aspects are dealt with while others are left as they were. Every operation in the list has a small description, so you can also learn about what exactly is happening while cleaning occurs. There is also a scheduler that can be quickly set up to run automated registry cleanses at a specified interval, whenever the computer is idle or at log-on.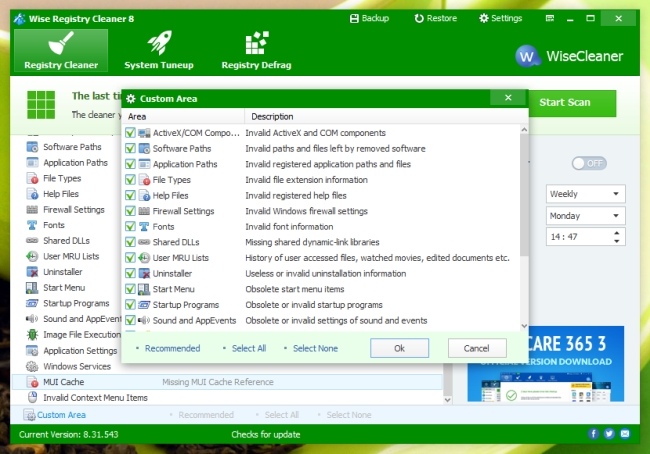 Registry Defrag is literally a defragmentation option, except it will only defragment chunks so that your registry data becomes contiguous. Having data not spread around the disks improves a computer's working speed and since the registry is often accessed, this operation might result in a great performance improvement. The only small inconvenient is that Registry Defrag will need to reboot your computer.
No system management application would be complete without a backup option. Wise Registry Cleaner has two backup options. One allows you to backup your current registry configuration, because who knows what might go wrong. The other one let's you save a System Restore point. Quicker than trudging through the system options.
Features:
Registry cleaning
Registry defragmentation
Boot-up / shutdown optimization
System stability optimization
Speed optimization
Network speed optimization
Registry backup
System restore
Pros:
Allows informed decisions
Defragments where it counts
Free
Cons:
Conclusion
Wise Registry Cleaner is indeed wise for offering exactly what a healthy Windows registry needs. The defragment option is quite a highlight and should be tried to see how much it can improve performance.
---
Add a review
Tell us your experience with
Wise Registry Cleaner
8.31
RELATED PROGRAMS
Our Recommendations
---
---
---
---